By Valerie Candelaria
"150 Idaho Teachers Were Involved in the Process
of Developing the Common Core Standards"
This is a statement repeated many times by Superintendent Luna when asked about local input on developing the Common Core Standards.  So, I wanted to share the following information regarding his explanation of this statement.
My interpretation of his facts…
1. More than half of the 150 teachers (84) cited by Mr. Luna were actually a combination of Idaho "educators" and parents who submitted public commentary following the release of the draft standards in March of 2010.  He did not refer to teachers, only educators, which is a pretty broad description.
2. A "Gap Analysis" comparing the final CC standards to existing Idaho standards was completed by the other half (70) who WERE Idaho teachers in July 2010 using a tool designed by Achieve, Inc. (the writers of the standards), so one could reasonably assume that the structure of the tool would favor the design and organization of Common Core to more readily support a decision to adopt them.  Note also that the standards had been finalized in June 2010, so the gap analysis played no role in the development process. Instead it was an exercise toward adoption later that year.
3. If the recipients of the initial Idaho commentary at the State or CCSSO were anything like the recipients of the feedback from state reviewers during the actual development, then it's unlikely that much attention was paid to them. 
It was explained to us during our Common Core forum in July 2013 (by an official standards reviewer for his state) that there were approximately 10,000 comments submitted by states overall… and when the final "development report" was later published, the section containing the feedback was reduced to only 3 pages.  Ten thousand comments were reduced to 3 pages.  This alone illustrates the value placed on feedback in this process.
Here is the email thread with Supt. Luna…
__________________________________­­­­­____________________________________________
Valerie Candelaria  

6/17/13

From:

Valerie Candelaria [mailto:

]

Sent:

Monday, June 17, 2013 9:20 AM

To: Thomas R. Luna

Subject: Common Core Supporting Documentation

Dear Superintendent Luna,
I was present for the resolutions committee meeting in McCall on Saturday morning and heard your

presentation.  There was something you mentioned for which I would like to request supporting documentation.

  You said that 150 Idaho teachers were involved in the process of developing the Common Core standards yet

I do not see them listed as members of a development team.  Is there another listing that you can provide

to document such participation?  And will you please explain their role?


I would appreciate your help in providing this information at your earliest convenience.
Thank you,
Valerie Candelaria
______________________________________________________________________________
Thomas R. Luna <trluna@sde.idaho.gov>

7/8/13
In March 2010, the Idaho State Department of Education received approximately 30 comments from parents and educators on the draft of the Common Core State Standards. Another 54 Idahoans sent comments directly to the Council of Chief State School Officers regarding the draft standards in 2010.
After the standards were published, approximately 70 teachers from across Idaho conducted a gap analysis, comparing Idaho's previous standards to the new Common Core State Standards and determined that the new standards were much higher and should be adopted.
This totals about 154 teachers, parents and others who commented or worked directly on the standards before they were adopted as Idaho's state standards in 2011. This does not include those who attended the more than 20 regional public meetings the Department held throughout the state in 2010 because we did not track attendance at those meetings.
______________________________________________________________________________
Thank you, I appreciate receiving this additional information.  Once again, though, I am looking for documentation for these statements.  I presume that public commentary with both the Idaho SDOE and the CCSSO are available for public request, and certainly I expect that project information and a final report from a locally conducted gap analysis would be available for public review.
Please advise how and where I might obtain documentation regarding these activities, as I am interested in the public commentary and in knowing the participants and the process used for the gap analysis.
Thanks again,
Valerie
______________________________________________________________________________
I later received the supporting documentation I requested…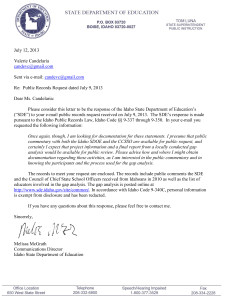 click to enlarge
The favorable / unfavorable mix of responses was approximately 50/ 50
Tags: Idaho teachers, Idahoans Against Common Core, Tom Luna