This is a big Common Core weekend here in Idaho.  If you have the opportunity you should try to catch one of these three events.
Saturday morning Dr. Duke Pest will be speaking at King Little Theater in Burley Idaho.
Sunday evening he will be speaking in Nampa, Idaho.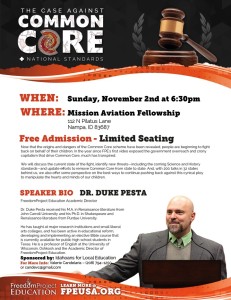 (Click to enlarge)
However the big event takes place Saturday evening in Idaho Falls.  Duke Pesta, Gary Thompson and Alisa Ellis are speaking at the event,
Countering Common Core  
6:00 p.m., Shilo Inn Convention Center,  780 Lindsay Blvd.,
Idaho Falls.
Listen as these three wonderful speakers explain Common Core and the related education reforms in a way that will make you feel the need to get involved immediately.
This event has put together by a wonderful group of die-hard moms who are like no one you've ever met before. (No really they are amazing!)   Come support them and learn more at this free event.
See flier for more details.
If you are able to attend one of these it is highly recommended.  We hope to see you there.