We keep hearing it all over, Idaho is 50th in education. That's a crisis, and a crisis demands that we do something to fix it.  But what does being 50th really mean?
Trostel
Well, according to this, it actually means 27th.  In this study, done by Trostel, Idaho doesn't fall in the last 5 for any of these categories:
Drop out rate
Math Scores
Reading Scores
Percentage of children who repeat a grade
Teacher to pupil ratio
Least Safe Schools
Bullying
According to the National Center for Education Statistics, Idaho ranks above the national average on the NAEP in most categories.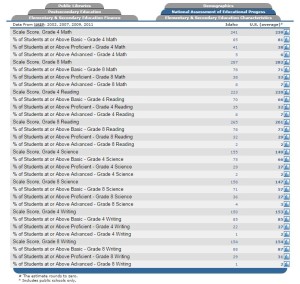 Click to enlarge
Idaho is actually performing quite well.
Why do we hear panicked cries about Idaho schools?  Because if there is a crisis, something must be done and it must be done now!  No time to think, just do.
If Idaho's education system is in such terrible trouble we must do something to fix it. Enter Common Core to the rescue.  No time to think, just implement.  If we're not in the middle of a crisis we can take our time, slowly evaluate the situation and realize what a sham Common Core really is.
Here's what I take away from the above statistics combined with the fear campaign being waged:
 Someone must be making money somewhere on this.
I've heard people talk about how Idaho doesn't have a culture that values education.  Hogwash.
 Idaho teachers are doing amazing things with too little pay.
It's not the amount of money spent but rather the home life that children have that determine how well they do in school. (I'm not trying to justify low teacher pay.  Idaho really should pay their teachers more.)
We have room to improve, I'm not saying we don't.  Let's just slow down, take a deep breath, and make certain that what we're doing is the right thing.