Part of the amazing thing about the opposition to Common Core is how truly grassroots it is.  There are people all over this great country and state who have taken a lot of time and effort to help inform people about the many frightening issues that began with No Child Left Behind and now continue with the Common Core Education Reform Agenda.  One such mom has worked very hard to get the movie Standardized to our area.
Dan Hornberger is the producer, co-director of the documentary.  From the website,
A 23-year high school English teacher, Dan earned a B.A. in Communications from Temple University ('84), then landed a job at the United States Tennis Association, where he produced, wrote, and directed several educational videos.

He earned his MFA in Educational Leadership from Lehigh University.

He also really despises standardized testing.
If you are at all interested in learning more about how the high stakes testing industry is ruining our education system, Please come support this movie.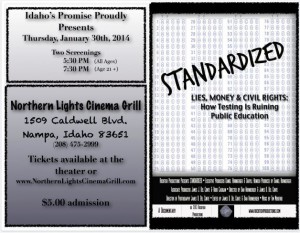 http://idahospromise.org/2014/01/18/help-spread-the-word-for-standardized/
See you at the movies.
(Is it pathetic or what that my husband and I are going on a date to a movie about standardized testing?  Common Core really has taken over our lives.)
(Still waiting to see a group of moms come together in support of Common Core.  Nothin' yet.)
Tags: Idaho's promise, Standardized