Stephanie Zimmerman
Stephanie Zimmerman's Latest Posts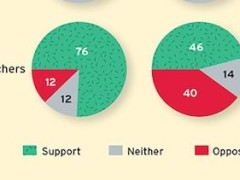 Change is hard.  We all get comfortable and don't like it when our status quo is challenged, but give something long enough and we get used to it.  Maybe even grow to like it.   With Common Core quite the opposite is true, the more you learn the less you like. Earlier this summer Rasmussen […]
I had a friend tell me to not get discouraged yet.  She had the feeling that in a few months, after seeing Common Core fully implemented in Idaho, many parents would be joining our ranks. I think she's probably right and here's why:
By Mary Ollie As a teacher, I've studied the tiered licensure proposal adopted by SBOE and have written about it a few times.  I wanted to share with you a conservative view. First of all, the teaching profession is not riddled with lousy teachers.  When teachers do struggle, it is their colleagues who are first […]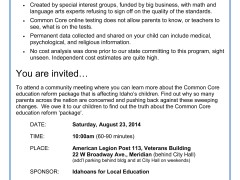 Saturday 10 AM join us for an information meeting.  (Click on picture to enlarge.) Then don't forget the Opt out webinar by Kathleen Jasper of Conversationed.com.  Sunday August 24th, 2pm MDT.  Register here  to learn more about opting out. Get informed, get empowered and BOYCOTT the test.
It has come to our attention that Superintendent Luna is telling parents that I spent many hours in Senator Goedde's office crafting the new data bill.  Therefore parents should be secure in knowing their student's data is safe.  This is just not accurate Stacey Knudsen and myself were invited to a meeting in Senator Goedde's office […]
This nice little piece was on ConversationEd.com  Dear Ed Inquiry, Below is a letter that comes from our state DOE to be sent our when parents they request to OPT OUT of the test. What would be your opinion on our best rebuttal as parents?  Also, is this form letter consistent with what you are […]
Listen to legal expert Jane Robbins of the American Principles Project explain the main concerns of Common Core. Whereas self-determination and families used to guide students in choosing their career path, proponents of Common Core think they know better when it comes to jobs that communities supposedly need…  "Techno-progressives" in local and federal governments are […]
Levi Cavener does it again. Idaho could benefit from examining the successful models of several States and hiring a professional grant writer and some technical experts who could better inform the development of a better-conceived application to fund the work that the State so desperately needs. Such was the scathing critique by the US Department […]
The beginning of this video is very humorous until you realize they're talking about our children's education. New York is the canary in the mine, and it's not doing well. Idaho, shouldn't we be learning from the experiences of other states who are further ahead in implementing Common Core?
Now that we have education reform in English Language Arts and Math, along with the Next Generation Science Standards coming down the line, are you ready to learn what they have in store for AP  US History or APUSH? Join a Nationwide Conference Call to hear how the AP's new U.S. History Framework is pushing curriculum […]