Change is hard.  We all get comfortable and don't like it when our status quo is challenged, but give something long enough and we get used to it.  Maybe even grow to like it.   With Common Core quite the opposite is true, the more you learn the less you like.
Earlier this summer Rasmussen Reports reported that the support for Common Core had fallen significantly among parents of children in elementary and secondary grades.  With parents who dealt with it the most, Common Core saw a drop in popularity by 18%, from 52% approval to 34%.
Teachers are coming to the same conclusion.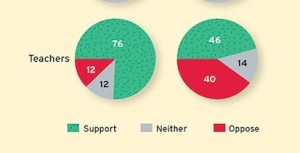 Look at the drastic drop in support between 2013 and 2014.
Why are teachers coming to this conclusion?  Teacher Peter Greene in his blog,  Curmudgucation, explains in bullet point fashion why Common Core had a very bad year.
The Lying
The Involuntariness
Shut Up
The Slander
The Money
The Child Abuse
The Testing
The Plan for Failure
The Backpedalling
Location, Location, Location
He ends his blog by saying,
 In short, I believe the Core lost teacher support because so many teachers spent the year face to face with it, looking it right in its beady little eyes. They don't love it because they know it so well. I'm willing to bet that by next May, when it's survey time again, the Core is not going to be awash in a new wave of teacher love.
As the school year progresses and Idaho teachers are faced with the full implantation of Common Core, please send them to our anonymous teacher survey, (in the right, sidebar,)  we need to hear from them.
Tags: parents against common core, Rasmussen, teachers against Common Core