Their words, not mine.  Opt out.  I usually try to use the word refuse, but when a district has a form that says "Opt Out"  I figure it's safe to use.
Attached are different forms from three school districts.
It's well know that Madison School District has opted out from taking the SBAC.  This form was used last year.  Fortunately for students, parents and teachers in this district, they won't need it this year.  Madison Opt out form
I don't have an easily printable pdf of the Bonneville opt out form, but you can at least see that they have one, even if some of the bullet points are less than accurate.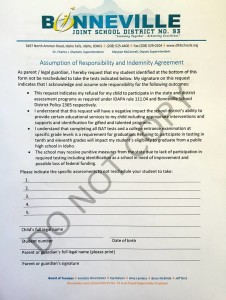 Click to enlarge.
The last one I have to share comes from the Teton School district.  It's very similar to the Bonneville form.  Teton opt out form.
I've talked with an employee from the West Ada School District. Parents at their school aren't even questioned if they ask to refuse the test and parents aren't required to remove their children from the school grounds during testing.
Why some school districts are telling parents it's illegal when it's not, I'm not certain.  But if you're one of those parents who's being told no, why not print out the three forms above,  fill them out and  take them into your school.  Maybe if they won't accept your refusal letter, they'll accept another school districts opt out letter.
Tags: Bonneville, Madison, opt out, refuse the test, Teton