Thursday, April 11,  I did an interview on KID radio in Idaho Falls.  I appreciated the opportunity to talk about Common Core and the concerns that many parents have about it.  It seemed to me that Neal was a little skeptical about what I had to say.
Thursday, April 18, as mentioned in a previous post,  Orlean Koehle spoke in Idaho Falls on Common Core.  She also  took the time to do an interview on the Neal Larson show.  She got a little more time than I did, but then she wrote a book.  She's an expert and I'm just a mom.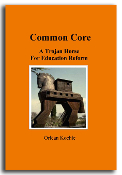 I am so glad for people like Mrs. Koehle who are taking the time to raise awareness about Common Core.  Listen to her interview.